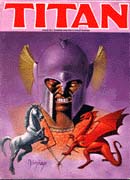 ... on my TITAN fan homepage!

Greetings to all TITAN players on earth!

This site was created in late 2001. As an enthusiastic TITAN player I attempted to find out more about this game. Because the game was no longer there to buy I was looking on the Web for information and these pages are the result of my search.
My special thanks to all the people who supported me and have allowed me to use their knowledge and their work about TITAN on this page.
You'll find those guys on the links and credit page.
The game is newley produced from Valley Games (international) or in Germany: Heidelberger Spieleverlag. The new game is available since December 2007. And since December 2011 also available is a version for the iPad! Please find more information on the news page.
I wonder wheater there will soon many new fans of this game and I hope you'll find here, what you are searching for.
May your titan never be defeated!
;) cheewai



Legal Stuff:
The names and titles of Titan, Avalon Hill, Hasbro and Valley Games are copyrighted and trademarked to their respective owners and are in no way affiliated with this website.
If you have any problems with information contained on this website
please email to

cheewai.kan[at-nospam]provider24.biz.