Here are some pictures of us playing Gods of Titan.
---
Moritz take on the fight

Here you can see the Gods of Titan Masterboard. Mortiz is waiting for his opponent.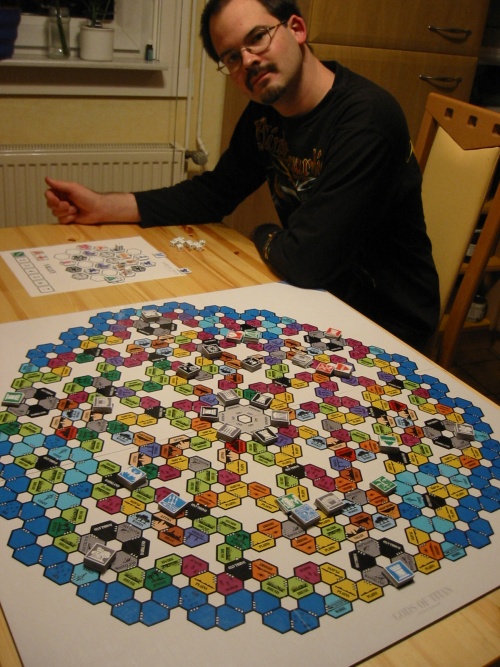 ---
Phoenix' last flight

The mostly native Phoenix legion is defending in the valley and tries to keep the attacker busy in order to reinforce the legion with a gorgon. But the legion's chance of reaching this goal is very slim. The attacker has more powerful creatures and on top of that a Priest. With a priest present every creature in its legion adds an additional die when striking. The Priest can also summon a Demon to its legion with the 4th grade spell "Summon".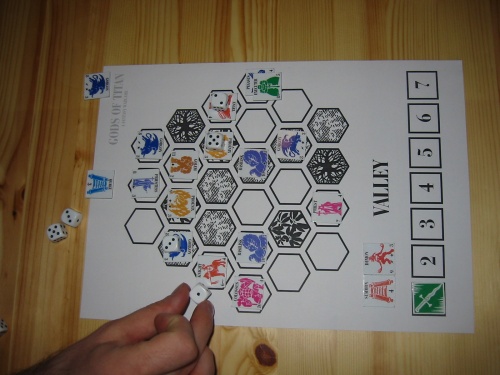 ---
Dark forces lost on home court

This is a fight of two high-end legions. The darklord player is attacking and tries to get his fingers on the asher elemental.
The dark legion is native in the darklands. However, he should not underestimate the defender! The sea legion got two mighty Seaserpents (45 points each) and the strongest magical user, a Necromancer. With his 5th grade spell "Slavery" he can take on an enemy creature and use it for his own legion. The Necromancer is the key to victory.